For now, BuildBee does not have an in-built firmware loader. If you need to upgrade your firmware, we recommend using Xloader.

Step 1 - Download and Xloader
- Unzip the folder to open it.

- Keep all of the files together in the folder as shown below, or it Xloader will not work. You can create a shortcut of 'Xloader.exe' for easier access.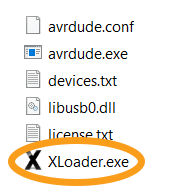 Step 2 - Connect your printer to Xloader
- Unplug the USB cable from your BuildBee CloudDock and plug your Me2 3D printer into your computer.

- Make sure your printer is powered on and click on 'Xloader.exe' to run the program.

Step 3 - Upload the latest firmware
- In Xloader, select the firmware file (.hex file) you downloaded for your printer:

- Select 'Mega(ATMEGA2560) as the device.

- Lastly, the COM port should have been automatically detected (if not you can change it) and you do not need to change the baud rate (default is 115200).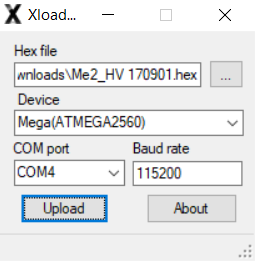 - Click upload. It will take a minute or two for the firmware to be uploaded to the printer. Once finished, you will see a message such as the one below:


- Disconnect the USB cable from your computer and reconnect it to your BuildBee server.

- You may need to recalibrate your Z offset after reflashing the firmware.
Firmware flashing functionality will be added to BuildBee in the near future.